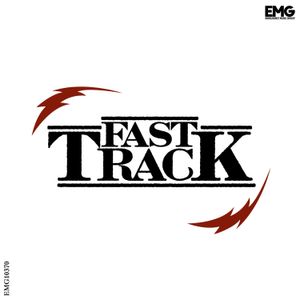 This is the long awaited debut album of the new bluegrass supergroup Fast Track. The members of this all-star extravaganza are Dale Perry (banjo), Steve Day (fiddle), Ron Spears (bass), Jesse D. Brock (mandolin) and Duane Sparks (guitar). And as you read these names you know for yourself that each and every band member is providing vocals. One could say that this band is mostly "David Parmley & Cardinal Tradition" without David Parmley, which was pretty amazing already, but wouldn't tell half the story. The different members of "Fast Track" have played with Doyle Lawson and Quicksilver, Continental Divide, Larry Stephenson, Special Consensus, The James King Band, Ronnie Reno, Lonesome River Band, Gary Brewer, Michael Cleveland and Flamekeeper, Chris Jones and the Nightdrivers, Audie Blaylock and Redline, Joe Mullins and the Radio Ramblers and more. And Ron Spears had his own outfit as a band leader some years back with "Ron Spears and Within Tradition". These guys have all been around but they never have lost their love for the music.. And this is exactly what makes this record so special. This is not one star beside another on stage – this is a true band. A band with so much experience and respect, making the band leader unnecessary. 
Like the members of the band, the song selection is exquisite. Three originals by Ron Spears and the title track instrumental by Dale Perry. These four tracks pretty much set the tone for what this band is all about. Hard-driving traditional bluegrass with a love for melody and harmony. We also get songs from the record written by Brink Brinkman, David Stewart and more. It's needless to say but there is not one song that isn't worth being on this record. 
I'll kick off by mentioning my favorites. Check out the opener "Blue And Lonesome Again" written by Ron Spears. It boasts a great rhythm, awesome melody and harmony vocals, and has a bluesy kind of feeling. Next, the bluegrass cover of country tune, "Play Me A Song I Can Cry To," written by Jerry Chesnut and originally recorded by "The Killer," Jerry Lee Lewis. Another great cover song is the 1989 "(I Wish I Had) A Heart Of Stone," by Baillie & the Boys, turned into an up-tempo bluegrass hit. And the thought provoking, "Ghost Of A Miner," about the hard working Appalachian people during the mining days. There is something unconditionally uplifting like "Come On Down" with one of the most beautiful mandolin breaks I've heard yet. The CD closes with another great song from 'Brink' Brinkman, arranged and recorded in a stripped down folky style with a pleasant and surprising 'walloon' banjo and mandolin melody line. 
I think you can get the picture: This is one of the BEST BLUEGRASS RECORDS I have heard this year! I say this not only because of the wide ranged, brilliant song selection, or the absolutely remarkable musicians and singers. But also because of the most perceptive recording, engineered by Adam Engelhardt and Glen Duncan of Engelhardt Music Group. Let's just hope that these guys stick together for many years of live shows and records to come.